Top Luxury Communities: Schaffer's Mill, Lahontan, Martis Camp
Lake Tahoe's most luxurious golf communities include Schaffer's Mill, Lahontan and Martis Camp. Located halfway between Truckee and Lake Tahoe on Highway 267, all are tucked within the base of Northstar Ski Resort, overlooking Martis Valley.
Lahontan was the first community to be developed in 1996 by DMB Development. Following the success of this project, they launched Martis Camp in 2006.
Originally marketed as Timilick in 2004, MA Partners purchased the project in 2010 and rebranded it as Schaffer's Mill. George Schaffer was known as the Father of Truckee. He and Joseph Gray established a lumber mill in 1866 in Truckee, and moved it to the location of these luxury communities.
Originally the summer home for the Washoe Tribe, there are many streams and meadows that make this setting truly spectacular. When choosing between Schaffer's Mill, Lahontan or Martis Camp, each offer something different.
Schaffer's Mill
Compared to Lahontan and Martis Camp, Schaffer's Mill has a more laid-back style and is more affordable, while offering similar amenities and exquisite architecture. It is built on 475 acres and has 200 homesites and luxury condominiums. Schaffer's Mill is currently ¾ sold and boasts a Johnny Miller and John Harbottle designed 18-hole golf course.
Lots range in sizes between one-quarter and three-quarters, in a low-density setting surrounded by meadows and pine trees. Homeowners enjoy access to the clubhouse, sports and fitness center, tennis, pickleball, pool and hot tub. It also has a firepit and kid's play area, with a community area for outdoor events.
With ease of access to the Martis Valley Trail and Northstar shuttle, this is an ideal location for both winter and summer sports.
Search all Schaffer's Mill Listings
Lahontan
When Lahontan launched as a luxury golf community, it was the first neighborhood to elevate the price point of a Lake Tahoe retreat to over one million. Long before East West Partners renovated the Northstar area into a world class destination, Lahontan attracted discriminating buyers looking for a more private Lake Tahoe community.
The homesites followed strict architectural guidelines and its upscale club, fitness center and restaurant captured the style of the earliest mountain mansions built around Lake Tahoe.
For realtors lucky enough to be invited to their launch and Christmas dinner, they were greeted by a quaint and long lost ambiance of old time luxury. Carolers sang and their stunning holiday decorations captured the vision of what the community would become.
Built on over 900 acres, this is the oldest of these luxury communities and is well established with a sense of peace and privacy. Lot sizes range between one half-acre to two acres. Lahontan has been offering resale opportunities for decades. Lots too, are available to build your custom mountain retreat.
Lahontan offers similar amenities with direct access to the Martis Creek Wildlife Area. Ponds and streams can be found throughout the community. Where Schaffer's Mill might be more laid back, Lahontan has a more exclusive and private feel.
Martis Camp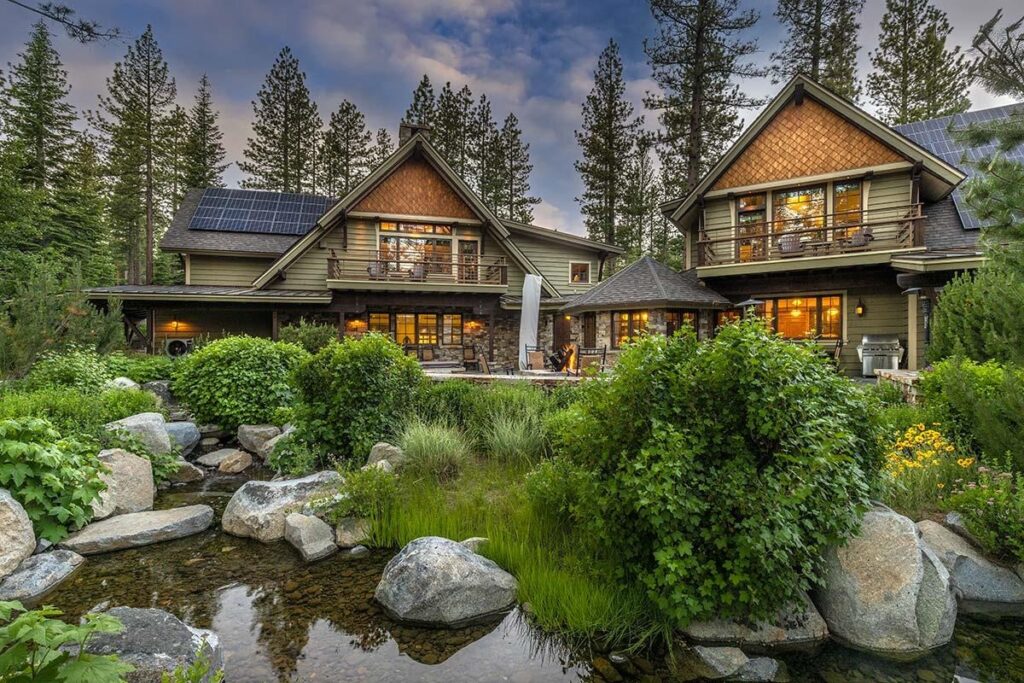 Boasting a private express chairlift to the Northstar California Ski Resort, Martis Camp has a mix of rustic and modern architecture and outstanding amenities. This family-oriented community has a wonderful outdoor theater and aerial adventure park with access to a private beach club at Lake Tahoe.
Popular with Silicon Valley buyers, the Tom Fazio designed 18-hole golf course is also highly rated. Lot sizes range between one and three acres. This larger community is built upon 2000 acres that also meander through forests, slight mountain elevations and streams.
In addition to similar amenities as Lahontan and Schaffer's Mill, they have kicked it up to a higher level with a pro shop, several restaurants, library, with community areas and a Barn. One has the sense of a well thought-out development with endless activities to be enjoyed by the entire family.
Search all Martis Camp Listings
Of the three communities, I would rank Lahontan highest for privacy and luxury, Schaffer's Mill for a more laid back style of affordable luxury and Martis Camp for their incredible amenities and exquisite community offerings.
Contact me today for more information about the many luxury golf communities at Lake Tahoe.